Providing fresh produce to the Food Bank YEAR ROUND!
Supporting local farmers, and educating youth!
Sunday, April 28th
Banquet Fundraiser and Square Dance
Whidbey Institute, Thomas Berry Hall
5 pm:  Appetizers, with Silent Auction and Veggie Photo ops
6 pm: Banquet from the Good Cheer chefs
6:45 pm: Program and Live Auction with Jim Freeman
Square Dance follows with the Mudhen Callers
The Whidbey Institute is a proud partner in Fresh Food on the Table, a community effort which supports the Good Cheer Food Bank in providing locally grown, fresh produce throughout the year, and offers apprenticeship and school garden programs for youth.
Reserve your tickets now at freshfoodonthetable.brownpapertickets.com
There is no cost to attend the banquet, but please donate generously!
Enjoy a delicious dinner prepared by Good Cheer chefs, and participate in a live auction, with Jim Freeman, of a garden variety of fun and useful items. Get the laughing muscles in your cheeks ready! A square dance with live music follows!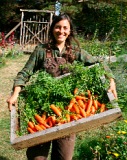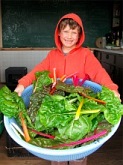 The Whidbey Institute Westgarden grows produce for the Food Bank throughout the season, and hosts a Community Gardening Leadership Apprentice who moves into a leadership role in the garden, and provides garden-based education for school children and community groups.
Join us for this special evening to support this initiative which strengthens community and local food security. Meet the youth and farmers who are growing for the Food Bank, and hear about all the ways Good Cheer is partnering with our community, schools and local non-profits to provide fresh veggies and fruit year-round to the Food Bank.
Fresh Food on the Table is a program of the Good Cheer Food Bank in partnership with the Whidbey Institute & South Whidbey School District, and in collaboration with the South Whidbey Commons, Deep Harvest Farm, Greenbank Farm & Skyroot Farm.